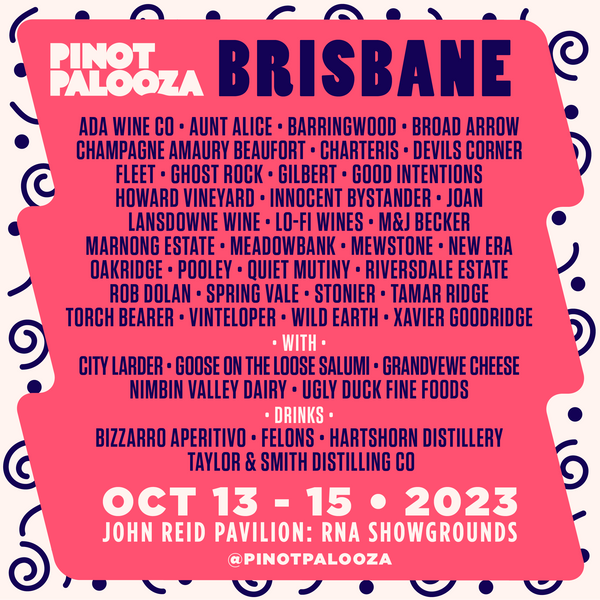 HEY BRISBANE, IT'S TIME TO GET PUMPED!
By our count, over 100 wines will be on tasting throughout the festival so it's best to be fully prepared to make the most of your time.

Below are some hints, tips and highlights to get you in the mood.
From your wine list, to the floor plan, to merch, to wine, cheese, eats, drinks and a cocktail (or beer) to wash it all down, there is so much happening!
YOUR PINOT LIST!

CREATE YOUR OWN PINOT PLAY LIST & WIN!

With so much pinot noir on tasting, it's a great idea to get your hit list ready. 

To make it easier, we've gone full digital where you add producers to a favourite list, rate and (for the wine nerds) even write your own notes to reference and or email yourself later.

PLUS! 

By simply adding wineries to your favourites list, you're voting in the PEOPLE'S CHOICE where you go into the draw to win some epic prizes.

Simply follow the QR code on the back of the lanyard we give you on entry.
OR FOLLOW THIS LINK!

QUICK TIP:
Add this to your website bookmarks and or save it to your home screen for easy access on event day!
FIND YOUR WAY AROUND THE ROOM!
Want to get a heads up on where all the delights are, check out the below
FESTIVAL HIGHLIGHTS!
YOUR OWN PINOT TOTE ON ARRIVAL!

Upon entry we'll be handing you our very own Pinot Palooza Tote bag (as well as REVEL Wine glass) for all your palooza swag. 

It even has two special pouches for a bottle or three of Pinot Noir so don't be shy!

MEET YOUR NEWEST WINE CRUSH!

Back by popular demand, we're featuring more than a bunch of movers and makers from TASMANIA.



They don't call it the "Gourmet Isle" for nothing. Get access to the hard to get with not only some of the most exciting pinot in the country, but cheese and drinks.

Expect to see, Aunt Alice, Quiet Mutiny, Barringwood, Broad Arrow, Devil's Corner & Tamar Ridge, Ghost Rock, Meadowbank, Mewstone, Pooley, Riversdale Estate,
Torch Bearer with Taylor & Smith and Hartshorn Distilleries plus Grandvewe Cheese!

MERCH

If you Festival without buying Merch, did you even Festival?

We don't think so. So whether you're after the ultimate wine or cheesy T-Shirts, jumper / hoodie or tote, we've got you covered.

Wear it loud and proud!
COCKTAILS AND BEER

We'll all be in great spirits come festival time thanks to our dear "whey cool" friends from Hartshorn Distillery (Tas) as well as Taylor & Smith plus the delightful Bizzarro Aperitivo are all on hand with their delicious drinks.

Plus, local legends Felons delivering all the cleansing ales.
Nice.

CHEESE!

There is no denying we love cheese. Heck, our sister festival MOULD - A Cheese Festival is dedicated to it.

So this year we thought we'd bring along a few of our favourites to join us on event days.

WIth us are Grandvewe (Tasmania) and Nimbin Valley Dairy (Nimbin) giving you all the sweet cheese dreams.

Stock up!

ULTIMATE EATS

You can't live on Pinot Noir alone.

By goodness we've tried but this year we've gone all out on not just more substantial eats.

In addition to the cheese, expect plus meat treats from City Larder and Goose on the Loose, plus accompaniments from Ugly Duck Fine Foods. Plus Carlos Tacos and Brazzo Boys.

Just as well you have a tote bag, amiright!


TUNES

Did you know music can literally change the way wine tastes?⁠
This is a FACT. For real.
Look it up!⁠
(we're actually serious!)⁠
⁠
It's why DJ ISHTI is back again and bringing all the good vibes with him to make that pinot taste as sweet as the tunes!⁠