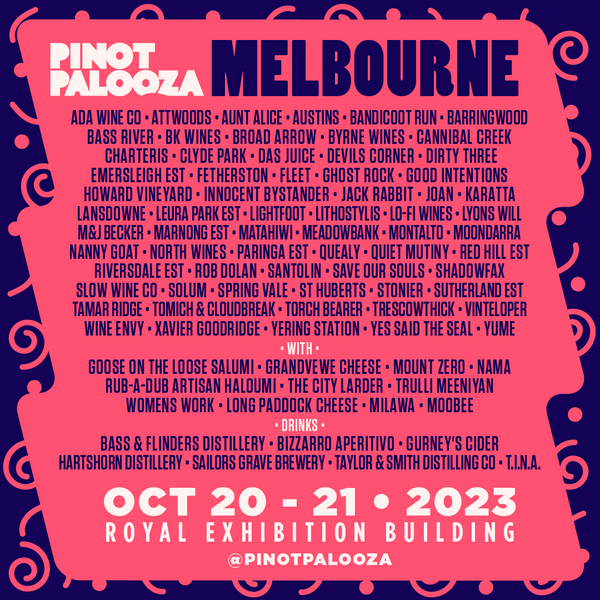 HEY MELBOURNE, IT'S TIME TO GET PUMPED!
By our count, close to 200 wines will be on tasting from 80 odd wineries so it's best to be fully prepared to make the most of your time.

Below are some hints, tips and highlights to get you in the mood.
From your wine list, to the floor plan, to merch, to wine, cheese, eats, drinks and a cocktail (or beer) to wash it all down, there is so much happening!
YOUR PINOT LIST!

CREATE YOUR OWN PINOT PLAY LIST & WIN!

With so much pinot noir on tasting, it's a great idea to get your hit list ready. 

To make it easier, we've gone full digital where you add producers to a favourite list, rate and (for the wine nerds) even write your own notes to reference and or email yourself later.

PLUS! 

By simply adding wineries to your favourites list, you're voting in the PEOPLE'S CHOICE where you go into the draw to win some epic prizes.

Simply follow the QR code on the back of the lanyard we give you on entry.
OR FOLLOW THIS LINK!

QUICK TIP:
Add this to your website bookmarks and or save it to your home screen for easy access on event day!
FIND YOUR WAY AROUND THE ROOM!
Want to get a heads up on where all the delights are, check out the below
FESTIVAL HIGHLIGHTS!
YOUR OWN PINOT TOTE ON ARRIVAL!

Upon entry we'll be handing you our very own Pinot Palooza Tote bag (as well as REVEL Wine glass) for all your palooza swag. 

It even has two special pouches for a bottle or three of Pinot Noir so don't be shy!

MERCH

If you Festival without buying Merch, did you even Festival?

We don't think so. So whether you're after the ultimate wine or cheesy T-Shirts, jumper / hoodie or tote, we've got you covered.

Wear it loud and proud!

MUSIC IS PINOT'S ANSWER

Music literally changes the way wine tastes.
Seriously. It does. You can look it up!
So its why music is the answer for getting into your pinot groove. 
Its also why we have DJs Horsbra (FRI) and ISTHI (Sat) delivering the Palooza side of Pinot. 
BE YOUR BEST #GIPPSTER

Gippsland is more a zone than a region. In fact, you could fit the country of Belgium in it. 
But head east from Melbourne and you'll find rolling green hills, incredible food, beer, cider and some of the most exciting wine in the country. 
It's why Gippsland is the feature region this year in Melbourne. 

FEATURING:
Bandicoot Run, Bass River, Cannibal Creek, Dirty Three, Fleet, Lightfoot, Lithostylis, Xavier Goodridge plus Sailors Grave, Gurneys Cider and Trulli Meeniyan!

FEED ME!

Crowd favourites NAMA PLEASE and TRULLI MEENIYAN are back this year to deliver you some of the best festival bites going around.

TRULLI is collaborating with the Gippsland contingent offering classic Pizza alla Romana while NAMA PLEASE will be sharing some the highlights from their residency at Paradise Alley

COCKTAILS, BEER & CIDER

We'll all be in great spirits come festival time thanks to our dear "whey cool" friends from Hartshorn Distillery (Tas) as well as Taylor & Smith & Bass & Flinders Distillery and the delightful Bizzarro Aperitivo are all on hand with their delicious drinks.

Plus, we're stoked to say Gippsland's very own Sailors Grave Brewery and Gurney's Cider will be joining us as well.

CHEESE!

There is no denying we love cheese. Heck, our sister festival MOULD - A Cheese Festival is dedicated to it.

So this year we thought we'd bring along a few of our favourites to join us on event days.

WIth us are Grandvewe (Tasmania), Long Paddock (Vic), Milawa (Vic) & Rub-A-Dub Artisan Halloumi who are also doing some awesome snacks as well.

Stock up!

SNACKS

You can't live on Pinot Noir alone.

By goodness we've tried but this year we've gone all out on not just more substantial eats.

In addition to the cheese, expect plus meat treats from City Larder and Goose on the Loose, plus olives from Mount Zero, and ice cream from Moobee!

Just as well you have a tote bag, amiright!


FOR WHEN LESS IS MORE

The NØ and LO drinks category has been exploding and we've been loving it.
One of our ultimate favourites is T.I.N.A. (This Is Not Alcohol) who's incredible drinks have us refreshing our pallets regularly.