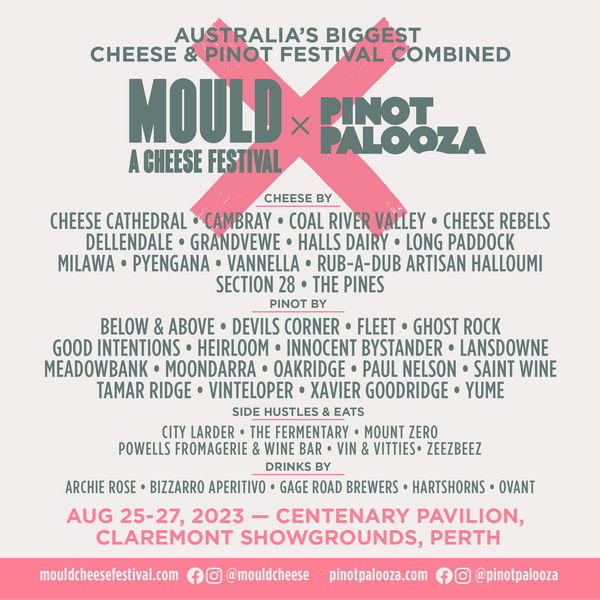 HEY PERTH, ITS TIME TO GET BRIE-PARED!
With so many cheeses & pinot noir on tasting, and all the drinks and all the cheesy side-hustles, its best to plan your day.

Below are some hints, tips and highlights to get you in the mood.
From your cheese list, to floor plan, to merch to wine, cheese side hustles and a cocktail (or beer) to wash it all down, there is so much happening!
YOUR CHEESE & PINOT LIST!

VOTE FOR YOUR FAVOURITES AND WIN!

With so many cheeses & pinot on tasting, its a gouda idea to get your hit list ready. To make it easier, we've gone full digital where you add producers to a favourite list, rate and (for the curd & wine nerds) even write your own notes. 

PLUS! By doing so, you automatically vote in the PEOPLE'S CHOICE and you go into the draw to win a 12 month subscription to the MOULD CHEESE COLLECTIVE.
YEP. A YEARS WORTH OF CHEESE!

FIND YOUR WHEY AROUND THE ROOM!
Want to get a heads up on where all the delights are, check out the below
FESTIVAL HIGHLIGHTS!
YOUR CHEESE CHECK!

Upon entry we'll be handing you our very own cooler bag (as well as a stemless wine glass) for all your cheesy swag. 

Not sure if you noticed, but cheese likes to remain cool so after you purchase your favs, head to the MOULD CHEESE CHECK and we'll take care of it for you. 

What is a Cheese Check you ask?
Just like a Coat Check but for Cheese!

MERCH

If you Festival without buying Merch, did you even Festival?

We don't think so. So whether you're after the ultimate wine or cheesy T-Shirts, jumper / hoodie or tote, we've got you covered.

Wear it loud and proud!
COCKTAILS AND BEER

We'll all be in great spirits come festival time thanks to the our dear friends Archie Rose (Syd) and the whey cool Hartshorn Distillery (Tas) plus the delightful Bizzarro Apertivo are all on hand with their delicious drinks.
Plus, local legends Gage Road Brew Co. will be on hand for a refreshing ale (or three).

FOR WHEN LESS IS MORE

The NØ and LO drinks category has been exploding and we've been loving it.
Even better is you have one of the best in your backyard.
OVANT giving you all the flavour and delicious drinks, just without the booze!

CHEESY SIDE HUSTLES

We have a heap at this years festival!

From honey, small goods, olives and all the cheesy condiments, there really is so much to try on top (or on the side) of your cheese heroes.

Keep an eye out for Mount Zero, The Fermentary, ZeezBeez, The City Larder, Epicurean Foodie and more.