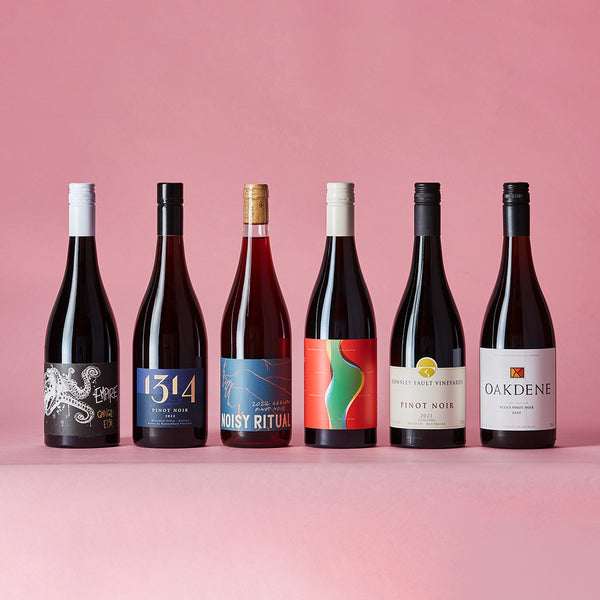 WELCOME TO GEELONG
Gee there are some pretty exciting things happening in this part of the world. 
Maybe it's the access to the surf coast, the evolving food scene or the call to rethink inner city life thanks to that whole 'spicy cough' thing, but this region is certainly attracting some damn good wine talent. 
But it's not just about the new guard, it's also about the  established producers growing and changing the narrative in the place they call home.
All this adds up to some truly unique and interesting examples of pinot noir. 
So what makes Geelong pinot?
Great question and something we humbly attempt to highlight in this month's box as we try to narrow it down to a mere handful of wines. 
There are many, many more to discover (or rediscover) so, and as always, we hope this sparks your curiosity, sense of discovery and equally encourages you to make the journey to the region itself.
Surf's up!
WANT SOME TUNES TO MATCH YOUR WINES?
Well, we asked the movers and makers of the below wines to pick a song to listen to on the way their vineyard and one as you leave.

The result?
Regardless of music preference, it's always a fascinating insight into the makers minds and style.

And this playlist is exactly that.


THE PLAY LIST ORDER

EMPIRE OF DIRT
Hertz - Amyl and the Sniffers
Magnolia - Gang of Youths

BANNOCKBURN 
A Design for Life - Manic Street Preachers
Metropolis - The Church

NOISY RITUAL
Bassder Meinhof - Delivery
Stay High - Brittany Howard

ROWSLEY FAULT
Mr Blue Sky - Electric Light Orchestra
Golden Brown - The Stranglers

OAKDENE 
8 ball – Underworld
Peach – Future Islands
THE WINE NOTES (3 PACK)
Empire of Dirt Pinot Noir, 2022

Tash Webster is a bit of a powerhouse of a human, making wines that quite literally make you stand up and pay attention. Sure, the word 'passionate' gets thrown around a lot when it comes to wine and sure, she has it in spades, but it's more than that.
It's like she channels this into a laser-like focus and a palpable vibrant energy.
We're hooked; especially on this wine where, as you'd expect, the energy comes through in wave after wave and quite literally demands your attention, and in a damn fun way - like when you've just met your new bestie on the dance floor kinda energy.
You feel us?
Also, if you like this one, then go seek her "Fuck the Patriachy' Pinot as well. 

I: @empireofdirtwines

Bannockburn 1314 A.D., 2022

When it comes to the history of Australian pinot noir, the name Bannockburn is synonymous.
For this humble writer here (it's Dan btw), it was one of the first examples of Pinot Noir that truly got me hooked on the variety way back in the day. It's also the home of Australia's oldest, close planted Pinot Noir vineyard and has more accolades than you can poke a bottle at. 

Since 2015, Matt Holmes has been the winemaker / custodian and is just nailing it. 

This 1314 AD inot noir is named after the battle of Bannockburn where the Scots defeated the English - it's also an awesome introduction to the brand.  Think more ethereal red fruits here with a polished backbone and structure
Fun fact, Bannockburn was the first ever People's Choice winner at the inaugural event back in 2012. 

I: @bannockburnvineyards

Noisy Ritual Pinot Noir, 2022

For the Melbourne 'northsiders' amongst you, you'd be well familiar with the urban winery that is Noisy Ritual. For those not so familiar, this Brunswick East winery is where you get to grab a drink, stomp some grapes and literally get hands on in the winemaking process. It's a heck of a lot of fun and this translates through the wines they produce.
All Geelong fruit here though - its light, fresh and instantly accessible. Best served with mates, social gatherings; frankly it's the perfect solution to any hump day too, as it's hard to drink this without a smile on your face.

Also, don't be afraid to serve slightly chilled.

I: @noisyritual
THE WINE NOTES (6 PACK)
Between Five Bells, 2020

Between Five Bells is a joint venture between wine importer / distributor David Fesq and Ray Nedeson of Lethbridge winery fame. The range is ever evolving but anchored in delivering down right delicious and cool wines at every turn. They also punch well above their weight and this pinot noir is no exception. 

There is a wild berry fruit and herby edge to this one, accessible and lively to boot. It's a funny one as well cos it's like a "serious, not serious" wine. Know what we mean? Like, if you want to get nerdy here you can but also, it's 100% okay to just open it up, drink and enjoy. Either way, it's your call and your win. 

Rowsley Fault, 2021

Named after (wait for it!) the Rowsley Fault line, where the vineyard is located twenty minutes out of Geelong. The vines are all dry grown and are, and we quote, "drought resistant beasts" that work bloody hard in the limestone and mineral-enriched soils.  With the deft hand of experienced wine maker, Duncan Lowe, steering the fruit in the winery, the result is a pinot noir of serious depth, structure and power. Might have something to do with those 'beasts' of vines punching deep down but regardless, this a wine to make you sit up and take note. 

Give this one some time to open up. Your patience will be well rewarded. 

I: @rowsley_fault_wines

Oakdene 'Peta's' Pinot Noir, 2020

Established in 2001 by Bernard and Elizabeth Hooley, and barely 20 minutes from Geelong itself, Oakdene is a stop you simply have to make. With wine nerd / GM  Steven Paul managing the day to day since 2009, and the winemaking stalwart Robin Brockett taking care of what gets into the bottle, the formula is a winning one.
The 'Peta's' pinot noir is exactly that, named after Bernard & Liz's daughter (who is also involved); it's a wine to sit and ponder the nuance. Maybe it's the mix of the clonal selections? Or the vine age and or the underlying impact of the Bellarine Peninsula.
Regardless, it's all about the core of fruit wrapped up in a savoury cloak that drives the wine forward. This is certainly a dinner party wine best enjoyed over a meal. 

Sharing optional. 

I: @oakdenevineyardscellardoor
---
Don't miss out on this box. Many of the wines are in very limited supply and difficult to procure
---
This product is unavailable