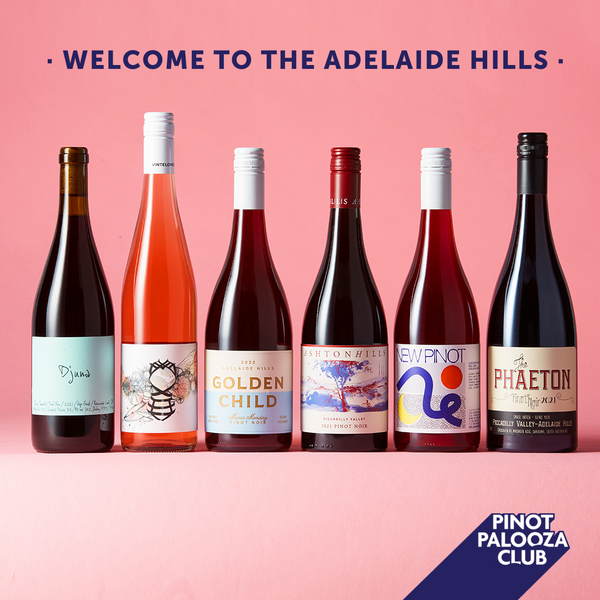 BOX #002: Adelaide Hills
Welcome, friends, to Box #002 of the Pinot Palooza Club!
This month we're focusing on the Adelaide Hills in South Australia. We've been keeping a close eye on this region for some time and we know you have too. In fact, the "Hills" have been in the top five 'People's Choice Vote" for a number of years at the festival, often beating more renowned regions. There's clearly something going on there and so we thought it high time we dove a little deeper.

There's an awesome mix here of the new guard, the classics and downright delicious wines all with spring time high in our minds. Enjoy!
WANT SOME TUNES TO MATCH YOUR WINES?
Well, we asked the movers and makers of the below wines to pick some songs to listen to whilst we enjoy their Pinot.

And not just any songs, we got them to one song to listen to on the way to their vineyard, and a song to listen to whne we drive away.

The result?

Regardless of music preference, it's always a fascinating insight into the makers minds and style.

And this playlist is exactly that.

THE PLAY LIST ORDER

Travis Tausend
Mulatu Astatke - Tezeta
Steely Dan - Rose Darling  

Vinteloper
Do You Wanna Get Funky? - C & C Music Factory
Falling Deep In Love - Horse Meat Disco feat. Kathy Sledge.

Golden Child
Trophy Eyes- Breathe You In
Gang of Youths- Magnolia

Ashton Hills
Fly Away – Lenny Kravitz
Blackbird – The Beatles

Lansdowne
Jungle Drum - Emilíana Torrini
Gettin Up - QTIP 

Murdoch Hill
All my Friends - LCD SOund System
I Wanna Dance with Somebody - Whitney Houston
THE WINE NOTES (3 PACK)
Travis Tausend "Djuna", 2021

Do yourself a favour with this wine. Sit down. Take a moment. Breathe deeply, relax, sip and ponder.
In a fast paced world, you sometimes can't help but lose track of the present moment; Travis's wine encourages you to slow TF down. This is why we like it.  

This Pinot is from the Magpie Springs in Hope Forest in the Hills. Slow and steady wines (ahem) win the race here. Take your time and savour it.

I: @winebytravistausend

Vinteloper Pinot Noir Rosé, 2021

People's Choice winner in multiple cities on multiple occasions, we simply had to include Vinteloper wines in this month's box. We've had a front row seat to David Bowley's rise to renown as they've joined us on event day in not just Australia, but Japan, Hong Kong, Singapore and New Zealand. The response to this wine is always an enthusiastic 'heck yeah', and as we get into springtime, nothing says late night evenings and picnics in the park than Rosé.

I: @vinteloper

Golden Child "Manic Monday", 2022

One of the things we love at Pinot Palooza is getting to witness wine brands evolve and grow year after year. James Hamilton debuted at the festival back in 2018 and quickly made a mark with his bloody fun wines. They're just so darn instantly accessible and downright smashable..  

The "Manic Monday" Pinot Noir is bang on that; loads of lifted, perfumed fruit with a crunchy, refreshing edge. This was deliberately released just in time for spring.

I: @goldenchildwines
THE WINE NOTES (6 PACK)
Ashton Hills "Piccadilly Valley' Pinot Noir, 2021

When putting together a list of great Adelaide HIlls Pinot Noir, you can't not include Ashton Hills. A benchmark producer with pedigree to boot, they consistently produce pinot noirs that make you take notice. The Piccadilly Valley Pinot Noir comes from growers that surround the estate, producing a wine of dark fruit, spice, richness and depth all wrapped in a fine, moorish structure. Classic. 

I: @ashtonhillsvineyard

Lansdowne "New" Pinot Noir, 2022

Got to love a wine name that tells it like it is. Yep, this is Lansdowne's NEW pinot noir fresh from the 2022 vintage and sheesh, is it delicious. Organics and low intervention is at the core of Lansdowne, and this wine is all about the springtime fun factor. It even has a little bit of gewurtz in it to add an aromatic lift to the carbonic pinot noir. Take a moment to chill this down slightly so by the time you hit the picnic in the park, it's perfect. #nailedit

I: @lansdownewine

Murdoch Hill "Phaeton" Pinot Noir, 2021

If you're a wine nerd like us, you've probably been enjoying Murdoch Hill wines with an almost cult-like fervour since winemaker Michael Downer started here in 2012.  For those of you who haven't, you're in for a real discovery here. This is full of alluring fruits, spice, red fruits and an almost hedonistic fragrance that keeps bringing you back for more.
Do yourself a favour with this one. Invite your mates over, cook some duck (or any game bird for that matter), crack this open and enjoy. 

I: @murdochhill_wines