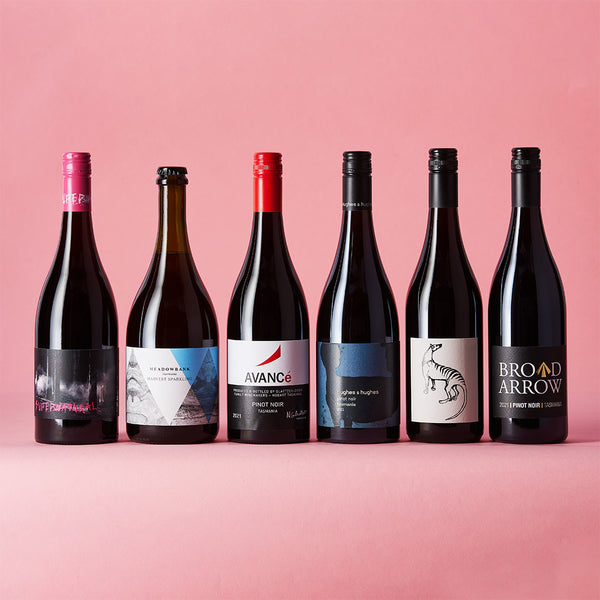 BOX #003: Tasmania
This month, is all about getting the hard to get in Tasmania. 
There is no denying Tasmania is bloody cool right now. I mean, if you haven't made it down there to check out the food, wine, restaurants and MONA /Dark Mofo, have you even Tasmanian?  A feature region at this years festival, all who attended got to 'get the hard to get' and not just wine but cheese, spirits, beer and cider.
So for the final month of the year, we thought we'd put together a little collection of some of our highlights. Many of the wines within this box rarely make it to the mainland so you're in for a real treat. 
WANT SOME TUNES TO MATCH YOUR WINES?
Well, we asked the movers and makers of the below wines to pick a song to listen to on the way their vineyard and one as you leave.

The result?
Regardless of music preference, it's always a fascinating insight into the makers minds and style.

And this playlist is exactly that.

It certainly takes you on a journey!

THE PLAY LIST ORDER

Each Winery chose two tracks each

Ghost Rock 'Supernatural', 2022
Cruise Control - Headless Chickens
Take Me Back - Noiseworks

Meadowbank 'Harvest' Sparkling, 2022
Harvest Moon – Neil Young
Straight Outta Compton – N.W.A.

Glaetzer-Dixon Avancé Pinot Noir, 202
Låpsley - Operator (DJ Koze's Extended Disco Version)
We're on the road to no where - Talking Healds

Mewstone 'Hughes and Hughes', 2021
Killing in the name - Rage Against The Machine
I will always love you - Whitney Houston

Small Island 'Saltwater River', 2020
Pixies - Where is my mind 
Eels - Novocaine for the soul 

Broad Arrow, 2021
Finally See Our Way - Art Vs Science
The Devil Wears a Suit and Tie - Colter Wall
THE WINE NOTES (3 PACK)
Ghost Rock 'Supernatural', 2022

We may have said this before but one of the joys of an annual pinot noir celebration is watching not just wines go from strength-to-strength, but the brands that make them evolve and grow too. Ghost Rock is one such producer - simply put, they're on fire. Every vintage seems to get better and better and better; a op 10 People's Choice in 2019, we even put their wine in 150ml cans for our 'Side B' event and then, at this year's festival, went head to head with another Tasmanian producer for most popular on the day. So yeah, it would be remiss not to include them in this month's lineup. This wine here? 'Supernatural' is all about fun, accessible, low intervention, juicy fruit forward, drinkable pinot noir. Don't be afraid to enjoy this at cellar temperature as well. If this is your introduction to Ghost Rock, then you're in for a real treat. 

I: @ghost_rock_wines_eatery

Meadowbank 'Harvest' Sparkling, 2022

Look, seeing how December is the festive season, we thought you should absolutely  have a bottle of fizz in the fridge to share with your loved ones. Meadowbank make some awesome pinot noir thanks to the deft hand of winemaker Peter Dredge. The 'Harvest' sparking, rarely seen on the mainland, is a fun, pet-nat style fizz that is predominantly pinot noir (with a splash of Chardonnay thrown in for good measure). Think of this as your pre-game festival lunch or dinner drink, picnic in the park, or, frankly just cos it's Wednesday… or Thursday, or 'gee, I'm glad the day is over' kinda vibe. You get the drift? If you try and drink this with a frown on your face, it won't be long till it's upside down. 

I: @meadowbank_tasmania

Glaetzer-Dixon Avancé Pinot Noir, 2021

For the winenerds amongst you, remember when a Tasmanian shiraz won the Jimmy Watson Trophy? Well, it was Nick Glaetzer who made it. It made sense in reality seeing his family routes are in SA. But it was the pinot call that brought him to Tasmania and he hasn't looked back since. The Avancé comes from fruit in the Upper Derwent and Coal River Valley and just delivers on all fronts. Herbs, spice and smoky fruit-nice, this punches well above its weight. 

I: @glaetzer_dixon
THE WINE NOTES (6 PACK)
Mewstone 'Hughes and Hughes', 2021

Over a decade ago, the brothers Hughes (Matthew and Jonathan) established the Mewstone Vineyard in the farmland of Flowerpot, on the banks of the D'Entrecasteaux Channel just opposite Bruny Island. It's a pretty epic site and produces some super serious wine. 

This 'Hughes and Hughes' label is all about low intervention winemaking, from quality fruit from key vineyards across Tasmania, a splash of whole bunch savouriness and heck of a lot of dark red and purple fruits. Whilst lo-fi is a core feature, the hi-toned fruit makes this such an enjoyable drink. And one you can't help but go back for more time and time again. 

I: @mewstonewines

Small Island 'Saltwater River', 2020

We tried these wines for the first time at Pinot Palooza in Melbourne earlier this year and talk about a stunning debut on the festival scene. It was like the word had got around and if you didn't check out James' wines, you were missing out. If you did, you're in luck and in for a treat. These are wines of serious structure but all wrapped in a core of dark red fruits with a fresh lick at the end driving the finish. Put them on pinot radar for sure but in the meantime, enjoy. 

I: @smallislandwines

Broad Arrow, 2021

Whilst you may not be too familiar with this brand, you will be with the winemaker, Jeremy Dineen. He was the winemaker at Josef Chromy for a number of years and now has a joint wine venture with Bruny Island cheesemaker, Nick Haddow, under the label Haddow & Dineen. Broad Arrow is his own label that virtually nevers leaves the island so we're pretty stoked to be able to share this with you.