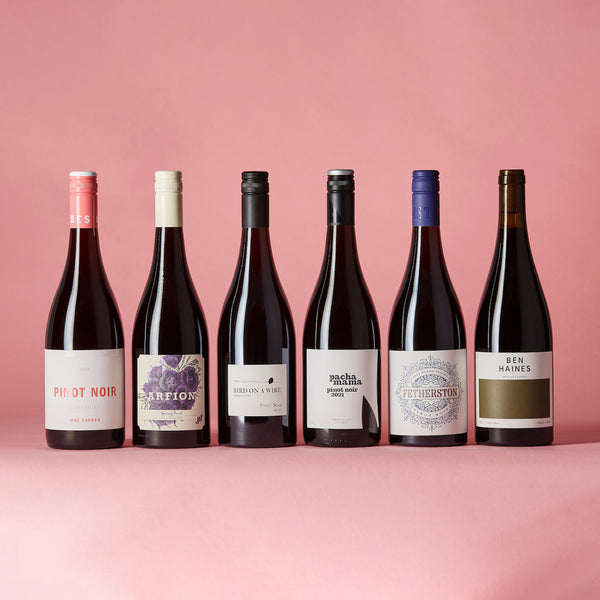 Welcome to the Yarra Valley
Happy New Year, dear friends!
We've guessed at least one of your new years' resolutions was to imbibe in more Yarra Valley Pinot Noir, right? We know, it's amazing! We've got you covered to kick off 2023 with a deep dive into Melbourne's proverbial backyard.

When it comes to Yarra Valley Pinot Noir, winemaker Steve Flamsteed sums it up best by saying 'We make ballet dancers here, not bodybuilders'. The ballet reference makes so much sense when considering the more ethereal, red fruit spectrum the Yarra tends to produce.
But, of course, ballet dancers have a lot of muscle and stamina among such grace; so don't be fooled by svelt fruit and nimble freshness. Yarra Pinot is all about restrained power. And as anyone who has enjoyed an old vintage of Mount Mary can attest, these wines age incredibly gracefully, too.
There is magic in this Valley…
Not that a single bottle in the pack will make it to your cellar. They're too damn delicious! Drink now and enjoy. 
WANT SOME TUNES TO MATCH YOUR WINES?
Well, we asked the movers and makers of the below wines to pick a song to listen to on the way their vineyard and one as you leave.

The result?
Regardless of music preference, it's always a fascinating insight into the makers minds and style.

And this playlist is exactly that.

It certainly takes you on a journey!

THE PLAY LIST ORDER

Each Winery chose two tracks each

Mac Forbes
Dreams - Fleetwood Mac
Concrete School Yard - Jurassic 5 

Arfion
Doin' Oour Own Dang - Jungle Brothers
Time (You and I) - Khruangbin

Bird on a Wire
I Solute You Christopher - IAMX
Nadine - Fools Gold 

Pacha Mama
Wake up – Arcade Fire
This feeling - Alabama shakes

Fethertone Estate
Sir Duke – Stevie Wonder
Teardrop –  Massive Attack

Ben Haines
My Pal - God
Blyth Street Nocturne - Surprise Chef
THE WINE NOTES (3 PACK)
Mac Forbes "Yarra Valley", 2021

When it comes to understanding the Yarra Valley, a great place to start is a conversation with Mac Forbes. As many sommelier can attest,  his laser like focus on understanding the land in which he stands is palpable. He zero's in on the various sub-zones and looks to express that in his single vineyard wines. This, his Yarra Valley, comes from organically farmed vineyards across the regions and is a wonderful expression of place. 

I: @mac_forbes_wines

Arfion 'Spring', 2022

Originally from New Zealand, Dave Mackintosh (or 'Davebro' as he's now called) established Arfion with his father Brian and brother Jimmy in 2011. With 

This is a mix of two vineyards in the Upper Yarra, Full Moon and Willow Lake vineyard. Whole bunch ferment, naturally fermented fun and delicious wine. Spring in your step kinda stuff!

I: @arfion

Bird on a Wire, 2021

Caroline Mooney is a bit of legend. Raised in the Yarra (her parents established Yarra Valley Dairy), there isn't much she hasn't seen in the region. With that comes both incredible insight and experience so establishing her own wine brand in 2008 was a bit of a no-brainer. This wonderful Pinot Noir is all bright, crunchy, red fruit with a wonderful savoury like lick at the finish. Roast chook (or duck), this wine, and happy days. 

I: @birdonawirewine
THE WINE NOTES (6 PACK)
Pacha Mama, 2021

With a name like Pacha Mama, named after the Inca earth goddess who brings fruit to the vine and joy to the world, it pretty much sets you up for what's to come; some pretty darn delicious wine. Winemaker Callie Jemmeson has a broad range of experience from a heap of high profile domains, and to just get to the point, this wine just  delivers. Fragrant, perfumed, ethereal, finely boned structure and super silky finish. Praise be! 

I: @pacha_mama_wines

Fetherstone Estate, 2021

You know when you meet someone,  things just click, and the next thing you know you've started a wine brand? No? Well that is the story of how Camille Koll and Chris Lawrence came to create Fetherstone thanks to a chance meeting at a mates place in 2013. Fast forward to today, with young family in tow, these wines are growing up just as fast as they are.

I: @fetherstonvintners

Ben Haines 'Colour Block', 2022

What can we say about Ben Haines? A deep thinker, and wonderfully curious,  would be a start and then from there, well, we recommend letting the wine do the talking. We like Ben's wine. His attention to detail and deep affinity of transmitting a  sense of place resonates with his wines are rather palpable. Only just released, this comes from Steeles Creek in the Yarra. Fragrant, structured, wild fruited. Just take your time here to fully open up. 

I: @benhaineswine