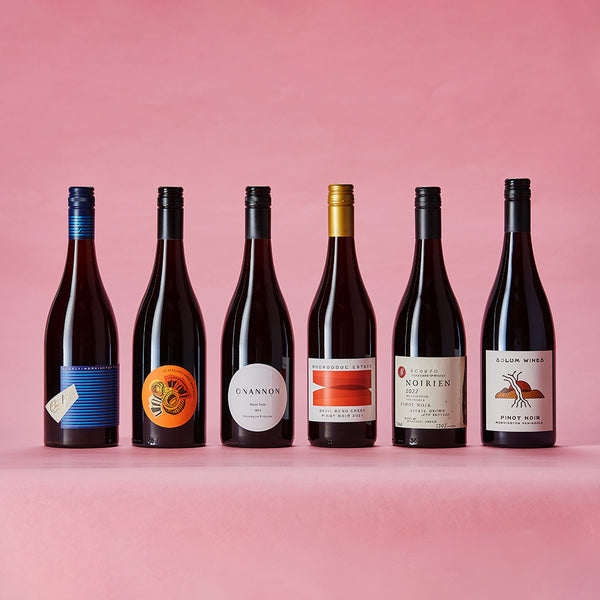 WELCOME TO THE MORNINGTON PENINSULA
Where do you go when you yearn for an island escape but a small part of you wants to stay connected? A Peninsula of course! And not only is the Mornington Peninsula an easy drive from Melbourne, it just happens to punch well above its weight in terms of incredible food, beautiful wine and zen-inducing water views to wash it all down.
With Western Port to the east, Bass Straight to the south and Port Phillip to the west, using the water to guide you is almost guaranteed to lead you down the wrong path, but with so much good stuff to discover, who cares?

Wherever you pop up the sea breeze will be there to guide you to a fabulous winery, an innovative eatery or at least a bloody good glass of Pinot Noir.
In this months box, we give you a snapshot of what is happening in Melbourne's back yard. From the established to the new guard. There is always something to discover on the Peninsula. 
THE WINE NOTES (3 PACK)
Quealy Mornington Peninsula, 2021

You'd be hard pressed to find a more hilariously fascinating human on the Peninsula than Kathleen Quealy; she's a dead set bloody legend.  For those in the know, you'd have been following her wines for years since perhaps from the early T'Gallant days. 

But for us, it's the wines from under her own masthead that get us pinot pumped. 

Regardless of variety, her wines always demand your attention and insist you have a heck of a lot of fun enjoying them.
This Pinot Noir is a blend of vineyards in the region and instantly generous and approachable. Silky, savoury red fruits, slippery even. 

Oops. We finished it. 

I: @quealywines

Garagiste 'LE STAGIAIRE', 2022

Gee we like the wines from Garagiste. And frankly, we really like Barney Flanders too. He was at the very first Pinot Palooza back in the day plus many of you may remember when we helped put his wine in 150ml cans during that whole 'lockdown' thing.  He is always up for trying something new, challenging the status quo and honestly, having a darn good yarn.

His wines are particularly ace focusing on highlighting the subregionality of Peninsula. The Stagiaire may be an introduction to the Garagiste stable, but this punches well above its weight. Kinda like Barney. 

I: @garagiste_wines

Onannon, 2022

Onannon is the ultimate triple winemaking threat. A collaboration between Will Byron, Sam Middleton and Kaspar Hermann (each providing letters of their last name to make up Onannon), they're winemaking experience, both previous and current, includes a roll call of some the greats both here at home and overseas. We could list them but it may take some time. 
Instead, how about this quote from the big man himself, James Halliday; "You would have to go a long way to find three more open-hearted and utterly committed winemakers; the world is their oyster, their ambitions unlimited."

I: @onannon_wines
THE WINE NOTES (6 PACK)
Devil Bend Creek, 2021

You may think minimal intervention wines fermented with wild yeasts are a new trend in Australia, but Dr Richard and Jill McIntyre have been making wines this way for over 20 years.

A "lapsed medico" (aka. ex-surgeon), like many others in the industry, Richard turned to winemaking as a second career, "something that would challenge and interest me at a time when I no longer wanted to be operating on people," he says.
Fast forward to today and the wines are not only synonymous with the region, but Pinot Noir.
This Devil Bend Creek is a one of our all time favourite 'go to' Pinots for a mid week tipple.
An introduction to the stable it may be, but over delivers on all aspects. 

I: @moorooducestate

Scorpo 'Noirien' Pinot Noir, 2022

We can't help but be a little nostalgic about this pinot and winery. From our humble sommelier days to today, we've loved nothing more than watching the wines from Scorpo grow from strength to strength. And then there is the man himself, Paul Scorpo and the incredible property in which the vineyard, and home, are.
And then, there is this wine that has been a regular on many a wine list throughout the country. Why? It is a wonderful expression of site, freshness and accessible Pinot Noir backed with a structure acid line you expect from a wine much older than this. 

Take this one to the verandah and admire the view. 

I: @scorpowines

Solum Wines, 2022

Well, aren't Solum and welcome addition to the Mornington Peninsula pinot noir landscape! With a best new winery finalist tick from Halliday in 2023, if Solum wiens aren't on your radar yet, they should be. Ryan Horaczko cut his winemaking teeth at Principia and then shortly after, established his own label Solum Wines, in 2020 to "allow the place and varietal personality to truly shine through".
This is certainly the case with this Pinot Noir sourced from a small 0.8h vineyard in Red Hill. Handpicked, wild ferment, minimal intervention all equals a really fascinating pinot noir full of earthly charms. Our advice? Watch this space

I: @solum.wines
Product title
---
Don't miss out on this box. Many of the wines are in very limited supply and difficult to procure
---