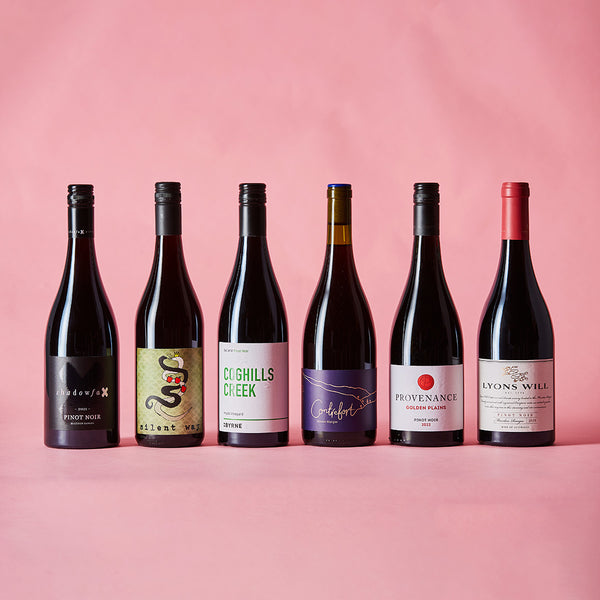 WELCOME TO VICTORIAN COOL
Brrr… it's getting cool out there. It's certainly got that winter bite in the southern states at least.
But we're not just talking about temperature here. We're talking definitive cool.
And no, this isn't about showing our state based bias, we're talking about the cooler regions of our home state of Victoria. Think Macedon, Ballarat, Romsey, Sunbury, and all within. 
It's 100% cool climate viticultural with deft winemaking a must. But as you no doubt know, it's where some of the most interesting, long lived and iconic examples of Pinot Noir in the country come from.
Heard of Bindi? Curly Flat? Of course you have. 
This month we've put together a unique selection of wines from truly cool regions of Victoria. They all tell a story of where they're from and the people within. This is wine with altitude as well.
Resilient is a good word here also as it's been a tough couple of vintages. And by tough we mean there just isn't much around so we are so grateful to these producers for sharing what they could with us.
So settle in. Start the fire. Sit back and smell the Pinot.  
THE WINE NOTES (3 PACK)
Shadowfax Pinot Noir, 2021

You've no doubt heard of the Shadowfax winery and restaurant. It's incredibly impressive and home to an array of festivals and events. But we hope you've also heard of just how darn good the wines are. They're like stealth. Consistently nailing it year on year despite what the vintage throws at them.

But it's no real surprise with old mate Alistair Timms at the helm.
With the vineyard in which this wine came, it hits 740 metre above sea level. Those cool nights result in a long growing season which builds and builds complexity.
Gee this is good. Just saying. 

I: @shadowfaxwines

Silent Way Pinot Noir, 2022

OK. So technically this is from fruit just outside the Macedon Ranges. So let's call the area "Port Phillip". But we can make a solid call on wine legend Matt Harrop who consistently over, and over, delivers on this wine. We just love it. Silent Way is his own label and honours the genius of Miles Davis. You may know Matt from his day job at Curly Flat, or the numerous wine shows he judges and chairs, or you've just drunk his wines and said to yourself "Damn, this is good". 

Open this up. Put on some tunes and just relax. Less talk. More listening. 

I: @silentwaywine

Byrne Wines "Coghills Creek" Pinot Noir, 2019

Alex Byrne likes a good Pinot Noir and frankly explores the variations of region and site.
This is what his wines are all about. For the veterans amongst you, you may remember the Noisy Ritual Pinot Noir a few packs back. He made that too.
But this one is his own brand and is all about celebrating specific sites. The Coghills Creek is on the North of Ballarat at an elevation of 450mts. Yep. Cool.
What we like this as it has a few years under its belt allowing it to settle into itself.
So take your time here. Let this open up. Be patient. It will reward you. 
THE WINE NOTES (6 PACK)
North Wine 'Contrefort', 2021

Here we head to the Macedon Ranges and get to meet wine man Etienne Mangier.
Here we have a vineyard at 540 metres, free of chemicals with minimal intervention.

Here we have a heck of a lot of fun with a wine that is simply just all about saying "Hey, do you like wine? Me too? Let's party" with a very thick french accent.
Originally from the Jura region in France, Etienne travelled across the globe before finally making his home in Australia before founding North Wine in 2013. The rest, they say, is in the drinking. And we like drinking. Pinot especially.
In enthusiastic moderation, of course. 

I: @north_wine

Provenance 'Golden Plains', 2022

This is a blend of six vineyards located on the Golden Plains that run west from Melbourne and is a blend from Scotsburn (500mtrs!), Moorabool and Drumborg. We recon this nails the 'Victorian cool' brief indeed!
Winemaker Scott Ireland deftly handles the fruit allowing the personality of the place to shine all the way through. Loads of bright red fruits here with a distinct tight line driving it forward. 

Cool baby, cool. 

Take this one to the verandah and admire the view. 

I: @provenance_wines

Lyons Will, 2020

I think the conversation went along the lines of "How much pinot noir do you guys have left?" and after fair bit of  "Pleeeease!" we managed to snaffle enough for this months box. Phew!

Sure that sounds a little dramatic but this is bloody good pinot noir and there isn't a lot around so we're stoked to grab what we did. If we started on telling the story of Lyons Will, we'd be here a while as there is a lot to get through so let's just say, it's a family affair led by Renata Morello and Ollie Rapson. The wines are typical macedon cool. Layered. Structured. Intriguing. But again, give this time. Let it open up and tell you its story. 

I: @slyonswillestate
---
Don't miss out on this box. Many of the wines are in very limited supply and difficult to procure
---
This product is unavailable